FORMED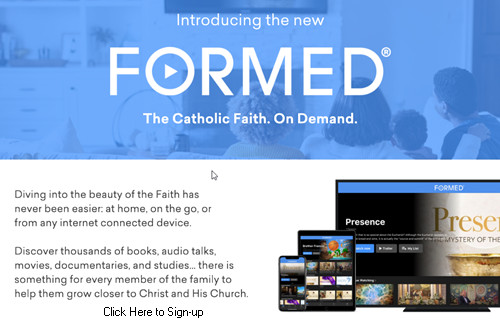 FORMED is a Catholic online site that allows us to access and view a wide variety of Catholic downloadable e-books, movies, talks, documentaries and many other programs, in your home. They also have a special children's section and ALL this is available 24/7. Our parish is now offering all parishioners a free gift subscription to FORMED - an incredible online gateway to the best Catholic content, all in one place! With your free access to FORMED, 24/7 on your smartphone, computer, iPad, or Kindle, you can
Prepare for Sunday Mass by watching an insightful five-minute video by renowned Catholic teachers
Enjoy a movie with your family that is both nourishing and entertaining
Enrich your marriage with the award winning video series Beloved: Finding Happiness in Marriage
Help your children grow in character and embrace the beauty and wonder of the Faith
FORMED is a wonderful website that has been called a "Catholic Netflix." FORMED has inspiring movies and video based studies, audio talks and e-books from the Church's most compelling speakers and authors.
How many of you would like to grow in your relationship with Jesus Christ? (make sure both you and Father raise your hands)
How many of you know someone who has fallen away from the Church, perhaps a friend, a family member, a co-worker, and you want reach them but you just don't know how to?

This is why our parish has invested in FORMED, so that each of us might grow in our relationship with Jesus Christ and in our desire to share our Faith with others, especially those closest to us.

FORMED provides amazing content 24/7 for you to grow in your faith.It's FREE and EASY to Register!

It's EASY and FREE to register for FORMED! Click on the "Sign-up" link in the image to the right and you will be taken to the FORMED website. Then click "Register" and enter your name, email address and your desired password. You're all ready to access the inspiring and engaging content on FORMED!