SRL 2017 Gala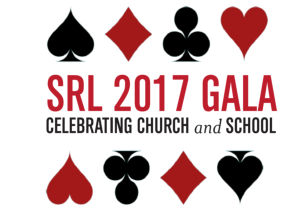 August 15, 2017
Dear St. Rose of Lima Family,
We are pleased to announce the 4th annual St. Rose of Lima Parish annual fundraising Gala taking place Saturday, October 14, 2017. We are shaking things up this year with a Casino Night Celebration at Miami Shores Country Club! Guests will enjoy an evening of fine dining, gaming tables with many prizes, dancing and a silent auction. As is our tradition, several members of our parish community will be honored for their exemplary service to St. Rose of Lima Parish, School and our greater community.
These individuals will be recognized at the SRL Gala on October 14th.
Service to Church: Marty & Linda Mennes
Service to School: Al & Kitty Childress
Service to Community: Angel and America Martinez
We are grateful for your continued support of this event, and look forward to another grand success! From the proceeds over the last three years, we purchased a set of chrome books for one class, provided every teacher with a new laptop computer, renovated both restrooms in the church, and added hurricane impact glass in the bell tower. All of these projects are a direct result of your generosity.
There is still much work to be done for the school and parish. Your Gala participation can help to update the school restrooms and create a tuition assistance program which keeps Catholic education accessible, affordable and available for all families. Both the church and chapel need pews, chairs and kneelers reupholstered.
For over sixty years, St. Rose of Lima Parish has offered a spiritual home to countless Catholic families, while St. Rose of Lima School has provided a nurturing spiritual and educational environment to thousands of children. Students participate in strong spiritual and academic programs that will prepare and challenge them to give witness to Christian values throughout their lives.
To keep this tradition of St. Rose of Lima Parish alive, we must depend on the generosity of parents, alumni, friends, and corporations. We have included a list of sponsorship opportunities for your consideration. Simply complete the attached form and return via email or in person at the parish office by September 25, 2017.
We look forward to hosting yet another unforgettable evening, and I invite you to join the celebration as we move toward our seventh decade of worship and community. The St. Rose of Lima community thanks you in advance for your consideration and generosity.
Sincerely,
Fr. George Packuvettithara
Pastor