General Information
Religious Ed Department of Religious Education
Grades K through 8th
415 N.E. 105 Street
Miami Shores, Florida 33138
305-758-0539 ext., 408
This email address is being protected from spambots. You need JavaScript enabled to view it.
Director of Religious Education: Annie Molleda
Volunteer Assistant: Janet Kline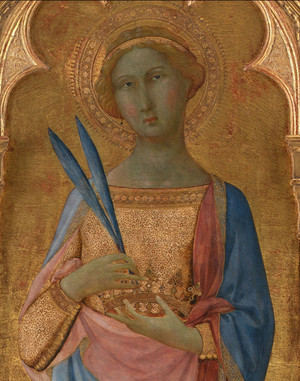 Prayer to St. Corona in a Time of Epidemic
Lord Jesus Christ,
You came into this world for our salvation.
Look kindly on us now, we pray, that we, and all those who serve You,
might be kept safe from this epidemic.
Heal those who are sick, comfort the suffering, bring back
those who have gone astray, and above all, increase our faith, O Lord.
Give us the grace to follow You and, like the martyr St. Corona, who gave
her life for love of You, to take up our crosses daily without fear or hesitation.
Lord Jesus Christ, Son of the living God, have mercy on us and on the whole world.
St. Corona, patroness of epidemic victims, pray for us.
IMPPORTANT INFORMATION

Confirmation has been postponed until further notice.

CD classes have been cancelled until further notice.

First Holy Communion - No news as to it will go on the scheduled date or not.

Please watch the mass with your children during this time. Our parish will live stream on our website or FaceBook page.

It will stream every morning at 9 am for daily mass and on Sunday: 9 am English, 11 am in Spanish.

Pray the rosary together as a family.

NOVENA TO THE HOLY SPIRIT
The novena in honor of the Holy Spirit is the oldest of all novenas since it was first made at the direction of Our Lord Himself when He sent His apostles back to Jerusalem to await the oming of the Holy Spirit on the first Pentecost. It is still the only novena officially prescribed by the Church. Addressed to the Third Person of the Blessed Trinity, it is a powerful plea for the light and strength and love so sorely needed by every Christian.
CLICK HERE TO DOWNLOAD OR PRINT