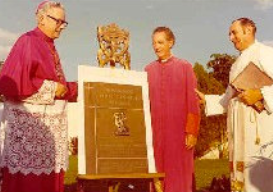 St. Rose of Lima Parish was established October 12, 1948. It comprised an area so large that in time, it gave rise to ten separate parishes. Bishop Thomas McDonough, Auxiliary Bishop of the Diocese of St. Augustine, was the founding Pastor. In those early days, Masses were held in the auditorium of Barry College and at the Red Feather Farm Restaurant, located at 140th Street and 6th Avenue. In 1949 Monsignor James Enright succeeded Bishop McDonough as Pastor. With great vision for the infant parish, he embarked on a building campaign, resulting over the years in an expansive parish plant. First came a Church/Hall facility, the present School Auditorium, followed by a parochial school. Then the present Rectory was built to replace the original priests' house on N.E. 92 Street. The present Church was completed and dedicated in 1961, followed by the baptistry and bell tower a few years later.
In 1971, Monsignor Enright retired from active ministry to be succeeded by Monsignor Noel Fogarty, who guided the parish and school through two decades of growth and development. Under his leadership, the Monsignor Enright Building was added in the late 1970's which houses school offices, science facilities, a library and meeting rooms. Completed in 1989 was yet another building addition, which surrounds the auditorium and provides the early childhood center, computer and art rooms.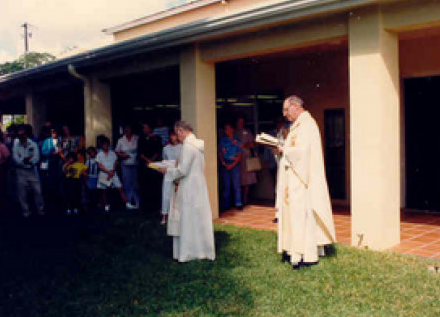 In 1991, Monsignor Fogarty was appointed pastor of St. Gregory Parish in Plantation, Florida. A former Assistant, Father Seamus Doyle, was appointed Pastor to St. Rose of Lima. Together with the Pastoral Council, Father Doyle's immediate goal was to complete the Parish building projects. The new parish offices and the development center with parish meeting rooms were added to the rear of the Church and the rectory was renovated. An aesthetic and protective wall was erected around the property. A Parish Pavilion was erected and blessed on Thanksgiving Day, November 23, 2000 on the east church lawn, completing the building expansion project begun in 1995. This beautiful covered area offers an additional meeting place for all parishioners. A religious goods store was opened in the church bell tower, in April, 2001. Over the last 50 years, St. Rose of Lima priests, sisters, parishioners and friends have worked assiduously to create today's facility.