RCIA and RCIA - Teen
Dear Parents:
We would like to inform you that we still do not know when the sacraments will be celebrated. As soon as we know when, we will inform you. In the meantime, as we wait for the church to re-open and sacraments to be celebrated, the best way to patiently wait is to make your home a loving example of the domestic church. Pray together, show them (through your examples) about the love and mercy of God and tell them that God loves them tremendously!
A PRAYER WHEN BAPTISM AND THE SACRAMENTS MUST BE DELAYED
I know it's not a race or a test of will, Lord.
Yet I feel a bit lost now that the Triduum has ended
and the baptismal waters remain just out of reach.

In this time of waiting, may I receive your grace— in patience that hopes with all who long to gather at your table,
in compassion that abides with all aching to embrace again,
and in mercy that anoints the sorrowing with the promise of joy's return.
Let me be alert to the opportunities each day
to fall more deeply in love with your Word
and with your people who live that Word by their faith and courage.
Teach me to trust that the new life promised to me is already mine,
for Christ is living and ever at my side.
And help me wait in joyful hope for the day I know is coming
when all our longings will soon be filled with your love that knows no bounds. Amen.
- Diana Macalintal, © 2020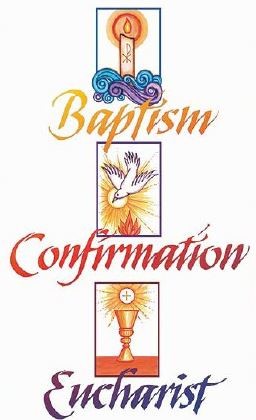 Registration is now open.
Please come into the office to registered anytime this summer.
Starting date of classes: TBA

The R.C.I.A., or Rite of Christian Initiation of Adults, is the process of becoming a member of the Catholic Church for unbaptized adults and teenagers. This process also includes baptized adult Christians or Catholics, who are preparing to receive the sacraments of Confirmation, Reconciliation and Eucharist.

As a Journey of Faith, R.C.I.A. begins in the fall and culminates in the celebration of the sacraments of initiation at Easter time. Participants gather weekly in a comfortable setting to discuss the faith and explore questions about Catholicism, or religion and spiritruality in general.
HAVE YOU CONSIDERED BECOMING A CATHOLIC OR COMPLETING YOUR SACRAMENTAL INITIATION?
If so, the Rite of Christian Initiation of Adults (RCIA) is for you! Our Parish RCIA Team welcomes anyone who has not been baptized, Catholics who have not received First Eucharist and Confirmation, as well as members of other Christian Churches. The RCIA is an extended process for adults and teens to pray, study, and discuss matters of faith in a relaxed setting that leads to full membership in the Catholic Church. Weekly sessions begin in the Parish Office on Thursday, August 24 from 7:00 to 8:15 p.m. Please call the Parish office for a registration form and more details, or email our Director of Religious Education, Mrs. Annie Molleda: This email address is being protected from spambots. You need JavaScript enabled to view it. or Sr. Jo Streva at the Religious Education office at 305-758-0539 ext. 408
ONLINE RCIA INQUIRY AND REGISTRATION FORM